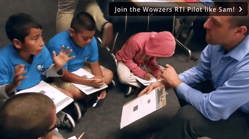 This school year is over, and like all good students, here at Wowzers we're trying to learn from good teachers.
We've been doing interviews with teachers about how their methods of teaching are changing.
Today's interview is with Sam Hess, an elementary school teacher from San Diego, CA. In less than a minute and a half Sam explains how he uses technology in his classroom to implement an effective RTI model.